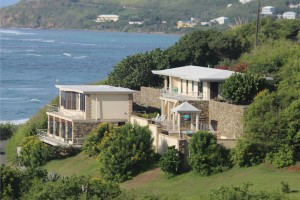 Spacious, private, and breezy, with views to make your heart sing. Five O'Clock on the Hill is the perfect place to host extended family, large groups of friends, multiple families, private retreats, and more.

Destination weddings can be held on the neighborhood beach or right on our covered patio. There is plenty of room for wedding guests, a small band, and a catered dinner with outdoor seating for 24.

With five bedrooms including en suite bathrooms spread over three terraced levels, your companions will all enjoy the gorgeous sea views and spectacular starry nights from their rooms as well as their balconies. You can hear the sound of the waves throughout the villa – adding to your relaxation.

Two separate kitchen areas make it easy for large groups to cook and dine individually or together; with the main kitchen convenient to dining on the spacious covered patio.

The six-foot deep swimming pool and an adjacent waterfall are a perfect complement to this tropical home. Surrounded by stone walls, the pool area is both beautiful and private… without blocking the scenery. Floating on your back at night will reveal some magnificent views on beautiful starry nights. The ambient light is minimal in the neighborhood making star gazing a wonderful pastime.

Five O'Clock on the Hill is located in East End's prestigious South Grapetree Bay neighborhood, adjacent to Jack's Bay and Isaac's Bay Beaches which are protected and maintained by the Nature Conservancy.

Grapetree Bay Beach is a short walk away and you will often find yourself alone on this beautiful private beach. Sea Turtles enjoy nesting in the solitude of this beach and can be seen hatching in the fall.

The property covers 1.6 acres and offers several private areas for outside lounging and dining. There is ample paved parking… enough to park five vehicles without blocking anyone in. Cable/Smart TV and Wifi internet are also included. A separate laundry room with outside access is near the pool area.

Enjoy our spectacular views of the Caribbean Sea!